We're thrilled to announce Magene international cycling e-race is going to kick off this Saturday. This brand-new international competition is supported by Magene and Onelap–Magene's indoor cycling application.

This competition consists of 3 teams from 3 countries including Thailand, Malaysia, and China. And riders from 3 participating teams will fight it out for victory on Magene's T300 smart trainer via Onelap.
The E-race starts this Saturday with live streaming at 16:30 on December 3rd(UTC+7)/ 17:30 on December 3rd(UTC+8). Want to cheer for your favorite team or rider? Add it to your calendar!
Mixing competition and equality, E-race features great fun and passion for cyclists. If you want to be updated on all the latest news, and exclusive material at the event, stay tuned for our newsletter and @mageneofficial on Instagram!
Participating Teams
China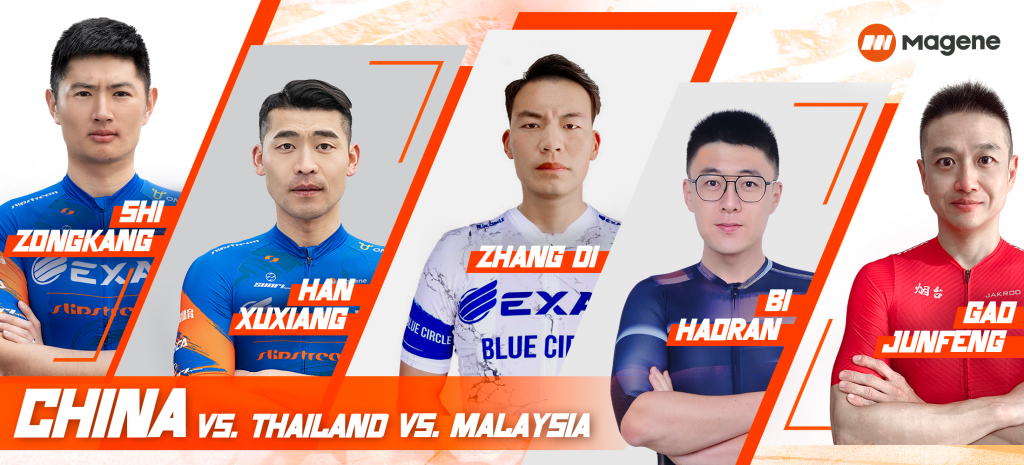 1. SHI Zongkang
Magene Technology-Slipstream Development Team Captain
1st The 16th Tour of Qiandao Lake Road Cycling Race 2022
1st The First Chinese Cycling League
1st Shijiazhuang International Cycling Tour 2019
1st Zhuanghe Inna Lake International Road Cycling Race 2016
2. HAN Xuxiang
Magene Technology-Slipstream Team Member
2nd The Sixth Stage of the 14th Tournament of Limu Lake
3rd 2022 Grand Canal Cycling Competition Pei County Station
2nd National Forest Cycling Race around the Tahe River team
3rd Pingtan International Cycling Carnival Team
3. ZHANG Di
Magene Technology-Slipstream Development Team Member
1st Jinan Baili Yellow River Cycling Race Mountain Elite Group 2020
2nd Yellow River Estuary (Dongying) Road Cycling Race Mountain Group 2020
3rd Tour of Nanjing Cycling Race (Jiangqinzhou Station) team 2021
4. BI Haoran
3rd China Excellent Tourist City Cycling Tournament (Suqian Station) Mountain Group
1st The Second Shandong City League (Dongying Station) Road Group
3rd Shandong Coastal Nine Cities Cycling Race Road Group
1st Yellow River Estuary (Dongying) Road Cycling Race Mountain Group 2020
5. GAO Junfeng
3rd Linyi Eleventh National Fitness Games (Pingyi Station) Master Group 2021
2nd Shandong "Hengxin Cup" Jiushan Lavender Town Mountain Bike Challenge Master Group 2021
Thailand
1. Sarawut Sirironnachai
Thailand Continental Cycling Team
1st Garmin indoor cycling competition 2022
7th GC Tour de Korea 2019
2nd Thailand national champion -Road Race 2022
2. Thanakhan Chaiyasombat
Thailand Continental Cycling Team
3rd Garmin indoor cycling competition 2022
4th Thailand national champion 2022 ITT
14th GC Tour of Indonesia 2019
3. Songklod Singkaburee
2nd Bangkok bike Thailand challenge – open
3rd Velo super sport wahoo indoor bike race 2021
2nd E-cycling #3 ThaiCycling Association
4. Peerapong Ladngern
11th Taiwan cup cycling e-sport 2021
11th KOM The Princess Maha Chackri Sirindhorn's Cup "Tour of Thailand 2018
5th Asian Continental Championships U23 – ITT 2015
5. Natthapol Jumchat
1st The Princess Maha Chakri Sirindhorns Cup Tour of Thailand 2022
2nd The Princess Maha Chakri Sirindhorn's Cup Tour of Thailand 2020
Malaysia (From R-team)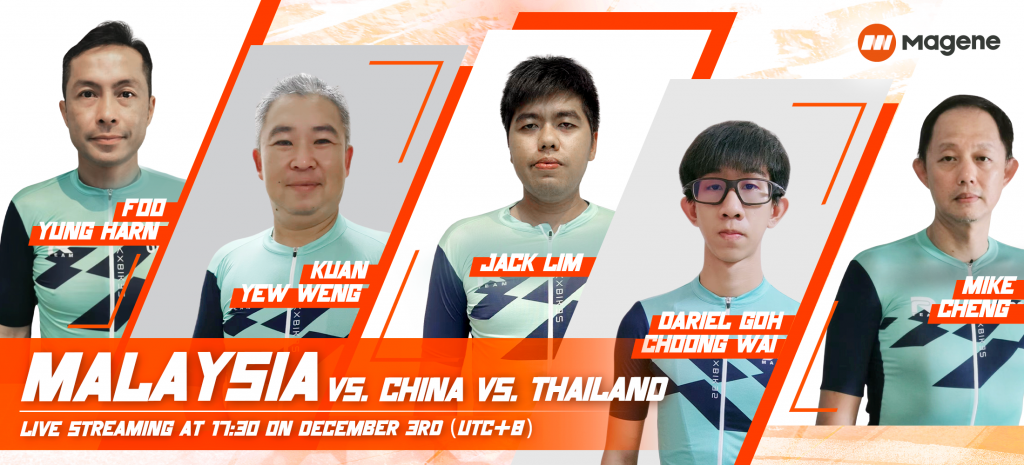 1. Foo Yung Harn
2. Kuan Yew Weng
3. Jack Lim
4. Dariel Goh Choong Wai
5. Mike cheng
R-team is a popular local cycling club. They are leading the trend of Malaysian cycling. Many professional Malay riders have been born in this club, and they have unparalleled influence and appeal in Malaysia.
R-team is committed to making Malaysia a country of health, harmony, environmental protection, and culture by promoting inter-city cycling.
Competition Rules
The competition is divided into two stages, the first stage is a flat route for sprint, and the second stage is a mountain climbing route. Each competitor will be ranked according to the finishing time (20 mins per stage), and the competitor ranked from 1 to 15 will get different points accordingly. Each stage of the race can score points for their team in the overall standings. Add up the team members' points, then we can get the total team point.
Support of Magene
Magene will provide competitors everything necessary to win each round of races with Magene products, including our T300 smart trainer. We will also provide commentary throughout the process of competition while live streaming.
Besides, prizes that we set in this competition include first cycling team (with the highest total points), first sprint team (with the highest total points in sprint route), first climbing team (with the highest total points in the climbing route), MVP (person with the highest total points each team), and king of climbing & sprint. We also provide participant awards to encourage riders who actively rise to the challenge.