It's worth it to be recorded every time you ride. "How to make our bike computers possess more functions at honest prices" is the goal of the R&D team in Magene for many years, and this goal also runs through the manufacturing process of C406 Pro bike computers. The core strength of an excellent smart bike computer must be the powerful data function, and the C406 Pro bike computer also achieves the goal of having more comprehensive data functions at a more competitive price.
C406 Pro's unique widescreen becomes a milestone design. It is not only a bike computer with the functions of a high degree of data page settings, 8 kinds of peripherals to connect, support of intelligent message notification, and displaying 110 professional data items in 13 categories, but also brings rich functions and experience of a high-end smart bike computer.
In addition, the C406 Pro also supports training functions, there are as many options as you want. The training functions include free training on the bike trainer and course training, you can use the C406 Pro to control the smart bike trainer and set the functions like target power, resistance level, and slope level according to your personal needs in order to be free from the influence of the weather, surroundings and other interferences. After starting the training course, you can set up relevant data items, including ''w/kg'', ''FTP%'', ''previous lap average speed'', and ''previous lap maximum speed''. C406 Pro is an excellent training partner to help you reach your training goals efficiently.
However, after receiving the Magene C406 Pro bike computer, you should first know how to use it to bring it into full play and let it help you carry out your cycling training at any time.
Here are the steps to use Magene C406 bike computers.
A. How To activate C406 Pro?
1. Download OnelapFit App, and register an account.
2. Press and hold ''A Button'' to open the device, open the "My Bike Computer" page and search for my bike computer via OnelapFit App.
3. Enter the mobile phone number or email to receive a verification code, and enter the verification code to complete the activation.
B. How to set up data items and sensor connections?
C406 Pro can be customized to set 30 pages with 2-8 data items on each page, 110 professional data items in 13 categories, and 26 bike computer settings to meet the needs of all types of data. But how do set the data items and connect to sensors?
Enter the OnelapFit App – connect your bike computer – enter the Settings Page- click the "Page Setup" – set the data items that you want to record.
2. Click the ''Sensor'' on the bike computer Setting page, search and connect your heart rate band, power meter, radar tail light, speed/cadence sensor, etc.

C406 Pro supports ANT+ and Bluetooth dual protocol, 8 kinds of peripheral wireless devices, including speed, cadence, speed & cadence combined, power meter, heart rate, smart bike trainer, electronic shifting system, and radar tail light. You can connect any sensor you need according to your power training and cycling needs, and it's easy to meet your training requirements. The C406 Pro is by far the bike computer that supports the most binding peripherals in its price range.
C. How to switch the language?
Magene C406 Pro supports 10 languages, you can choose the language according to the country and the region.
Connect Your Bike Computer to OnelapFit App
 Enter the ''Bike Computer Setting Page'' – click ''Preferences'' – click ''Language Settings'' – select the language you want to display.

D. How to turn on the Smart Notification function?
When it is paired with your mobile phone, you can be notified of phone calls, messages, Emails, Skype, WhatsApp, and other messages in sync, and turn on/off all types of smart notifications as needed. So, how to turn on the smart notification?
Connect the bike computer to OnelapFit
Click the ''Message Notification'' on the bike computer Setting Page
Turn on the ''Message Notification'' function – select the information you want to be prompted.
After finishing the setting step, you would be prompted with the new message while cycling.
E. How to upload my cycling data to other platforms?
After connecting to the OnelapFit App you can view a full range of professional personal data management, statistics, and analysis. It supports 46 items of data and 16 charts of professional sports data; It is one of the software that supports the most data analysis among the similar cycling software products currently on the market. And you can easily export and share FIT files to third-party platforms without a USB Cable.
1. Connect your bike computer to OnelapFit App.
2. Click ''Authorized Apps'' – Turn on ''Auto Upload'' to upload your cycling data to other platforms.
You can bind Strava and TrainingPeaks accounts, and the sports data can be automatically sent to the binding accounts after synchronizing it to OnelapFit App.
F. How to set backlight/auto backlight?
C406 Pro supports auto backlight, which calculates the sunrise and sunset time according to GPS and automatically turns on the backlight before sunset.
1. Connect the bike computer to OnelapFit
3. Click the ''Functions'' – click the ''Backlight'' – select ''Auto Backlight''
4. The brightness can be adjusted on three levels, you can adjust the backlight brightness of the bike computer according to your personal preference.

Constant Backlight: Make sure that the bike computer is turned on, long press the C button to turn on the backlight and turn off the backlight.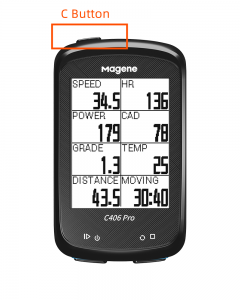 Outstanding performance, superior strength. Whether you are a cycling rookie, an experienced cyclist, or a professional cyclist, you can record your precious cycling data, to see your progress with the C406 Pro GPS smart bike computer. It is a good partner to accompany you to break through yourself and go forward.